The Crypto Prophecies game launch is set for May 2021 and it is currently offering an initial bonus reward to new players for trying out the game and helping to grow the community.
NFTs have crossed into the mainstream this year, most notably in the art and sports worlds. The digital artist Beeple saw his NFT piece "EVERYDAYS: THE FIRST 5000 DAYS" sold for a staggering $69 million at the historical auction house Christie's. Further success came in the form of NBA Top Shots, leveraging the market of sports enthusiasts via a blockchain-based platform for fans to buy, sell and trade unique officially licensed NBA video highlights as NFTs. By far the most successful digital collectibles so far, NBA Top Shots has already generated over $500 million in sales, part of an overall NFT market now valued in excess of $20 billion.
While NFTs are also starting to permeate industries like real estate, retail, music, and events, perhaps the most exciting developments are within blockchain gaming and decentralized finance. The NFT-based price prediction game, The Crypto Prophecies is looking to capitalize on both, combining the benefits of a rapidly growing interest in NFT collectibles and a form of gamified peer-to-peer trading in one of the most exciting frontiers of the crypto space.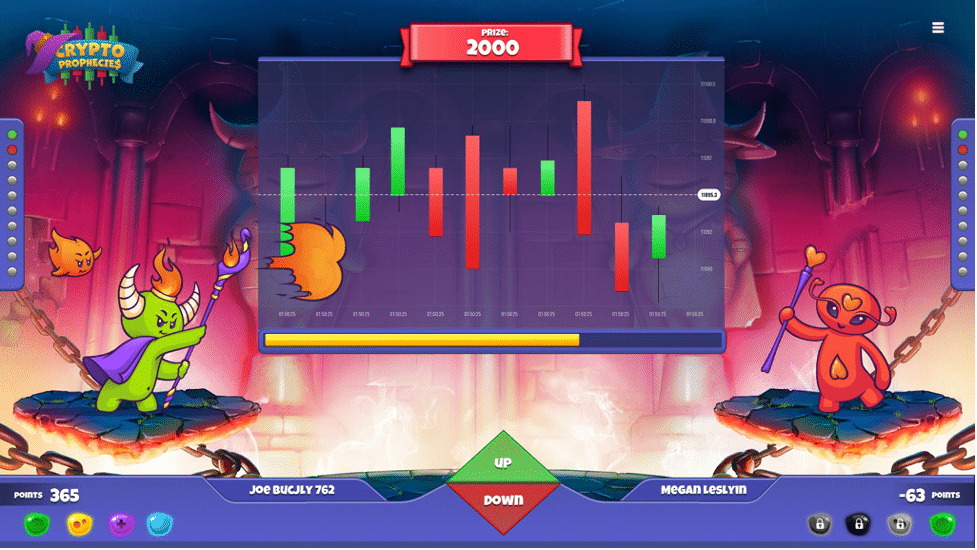 The Crypto Prophecies Game Design
The Crypto Prophecies is a decentralized peer-to-peer price prediction game that uses NFT characters known as Crypto Prophets. Designed to make price prediction fun, players go head-to-head to battle it out over 10-second candles, predicting how each chart candle will close in a real-time points-based game, putting their crypto prophecies to the test against the clock in the quest for profit. The winner of each battle wins the combined wager minus a 3% platform fee to cover deflationary TCP token burns, a daily prize draw pool, and ongoing development.
To play the game, users need to own an authentic Crypto Prophet character NFT, sold directly to players in-game or via trusted NFT marketplaces and exchanges like OpenSea. The first generation of characters includes Satoshians, Etherians, Ripptilians, and Tezmanians, with future generations of character sets to follow. As each Crypto Prophet is a non-fungible token on the Ethereum blockchain, players hold full ownership of the character and may choose to trade or sell their NFTs, particularly if the rarity level is high, combining the gamified trading experience with a form of decentralized finance.

Each highly collectible Crypto Prophet NFT comes with unique tiered abilities that can be customized by connecting magical item NFTs, including staffs, capes, wands, and pets to increase the prophets' skills and gain the edge in a battle to make more profit.
TCP Token Utility
In contrast to the Crypto Prophet characters, the TCP native token is fungible on the Ethereum ERC20 standard, powering ecosystem utility.
The TCP token will be used for wagers in peer-to-peer battles, purchasing NFT characters and magical items, daily draw prizes, access to special events and tournaments, and ecosystem governance and voting rights to decide on the evolution of the platform.
Built on Polygon
The Crypto Prophecies dApp is built on Polygon's Layer 2 solution for the Ethereum blockchain, formerly known as Matic. Polygon provides the immense scalability, high throughput, and low cost required to make a blockchain-based game viable, ensuring a quality gaming experience while retaining a connection to the largest NFT and decentralized finance network.
Integration with Chainlink's oracles for real-time price feeds, OpenSea's peer-to-peer NFT marketplace, and MetaMask wallet connectivity enhance its decentralized ecosystem further.
The Journey Ahead
The Crypto Prophecies game launch is set for May 2021 and it is currently offering an initial bonus reward to new players for trying out the game and helping to grow the community.
In preparation for launch, an IDO token sale and NFT Generation 1 presale will take place shortly, providing players with the assets they need to take part in the game, learn potentially profitable trading patterns, earn rewards, and collect rare NFTs.
Once launched, the daily prize pool, next-generation NFTs, team battles, tournaments, staking, and ecosystem governance will follow, with the platform set to introduce a new wave of users to the blockchain space, providing a fun and engaging way to invest and trade in crypto and NFTs.
Altcoin News, Blockchain News, Cryptocurrency news, News

Having obtained a diploma in Intercultural Communication, Julia continued her studies taking a Master's degree in Economics and Management. Becoming captured by innovative technologies, Julia turned passionate about exploring emerging techs believing in their ability to transform all spheres of our life.